Hey everyone! The bloggy sabbatical is going wonderfully and I cannot wait to come back and share with you all we've been up to!  In the mean time, I couldn't pass up the chance to tell you about a few things going on around the blogosphere that you may want to get in on. I am going to list them by order of date:
September 1st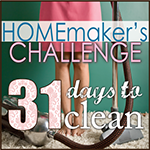 This is the launch of the new Homemakers Challenge site & the beginning of the second round of 31 Days to Clean. The sign up for this has been posted along with all the details. There will be giveaways and lots of wonderful ladies sharing encouragement and inspiration with you along the way.  You can check that out at Homemakers Challenge.
I also want to encourage you--if you did this challenge back in May and did not finish, do not lose heart! The goal is

not

perfection--it is progress. If you manage to only do a few [or one!] "Martha" challenges, you've succeeded!
Our success is not found in the perfect completion of things...it is defined as taking progressive steps forward and falling into His grace--the One who completes us. But the key is to take those steps and to never stop taking those steps.
Let's put one foot in front of the other together, shall we?
September 2nd
Erin over at Home With the Boys is hosting a book club featuring the book "Seasons of a Mother's Heart" by Sally Clarkson. It is a book of encouragement for homeschool moms, and with the start of a new year, it might be just what you need to keep going.
She makes it simple by keeping it one chapter per week. Visit her blog, Home With the Boys to find out all the details on that.
September 12th
Shelley Noonan of B'Twixt and B'Tween is heading up a Beautiful Girlhood study for mother's and tween (ages 9--13) daughters. She accompanies Beautiful Girlhood with her book The Companion Guide to Beautiful Girlhood. You can read this post on how this book was birthed. Such a beautiful testimony of God's work in a mother and daughter.
Visit her blog to learn more about how the study will work. If you have a tween daughter, I highly recommend this study. It's a discipleship program to help you train your daughter as she moves from girlhood to womanhood--a crucial time in a girl's life. I have a young tween of my own whom I will be taking through this study, so you will see how it goes as I post occasional updates. :)
Coming up I will be sharing a review of The Companion Guide to Beautiful Girlhood.
___
I invite you to stay up to date on the happenings by subscribing Subscribe to Joyful Mothering by Email