Teaching your child to read can feel so overwhelming. You may not have any idea where to start or your child just isn't catching on to what you are trying to teach. Can I just say, All About Reading is an excellent program that helps take the guess-work out of teaching your child to read.
The teacher's guide is awesome for walking you through the process and the hands-on activities are an amazing way to help really drive the concepts home. There is no planning required as it's all done for you. The only thing you will need to do is get each lesson ready — but the manual tells you EXACTLY what you need and how to do that.
The one thing I have learned from teaching 5 children to read, is that consistency is KEY. You may feel like you're getting nowhere, but as you keep pressing on, one day [for most children] it just clicks and they take off!!
What if your child isn't "most children"?
Sometimes children can struggle with reading for various reasons. Maybe they struggle with dyslexia. All About Learning Press has some great resources to help.
Or if your child struggles with Auditory Processing Disorder, they have some great tips to help your child with that as well. Click the image below to find out more!
Children will learn at their own pace and in their own way and All About Reading can be a wonderful tool to equip you and your child in order to succeed!!
You can read my personal experience in more depth here and here.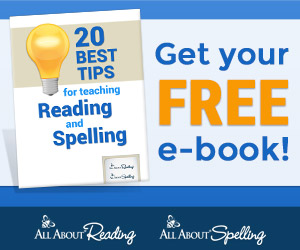 Download this FREE e-book to get some of the best tips on teaching reading and spelling. Oh yes, they also have an amazing spelling program!!
Because this is a multi-sensory program, it's more difficult for your child to get bored or antsy. In fact, it has been known to be a great fit for many children with ADHD, which is a huge win!
*This post contains affiliate links which means if you purchase from a link in this post, I get a small commission at no cost to you. Thank you! This helps to support my family!